Sometimes FTP is your only option
In a world where we have such amazing tools like WP-CLI it's hard to imagine why you'd want to attempt scripting over FTP. WP Engine doesn't allow SSH access and FTP was really the only option if I wanted to automate things with their service.
One time use mu-plugins
It all starts with a mu-plugin. A mu-plugin or must use plugin is a great way to force some php code to run on a website. All you really need to do is upload a php file to the wp-content/mu-plugins folder and on the next web request WordPress will auto-activate and run the code.
Must use plugins are special and can not be deactivated through normal means. They appear under a section called Must-Use on the plugins page.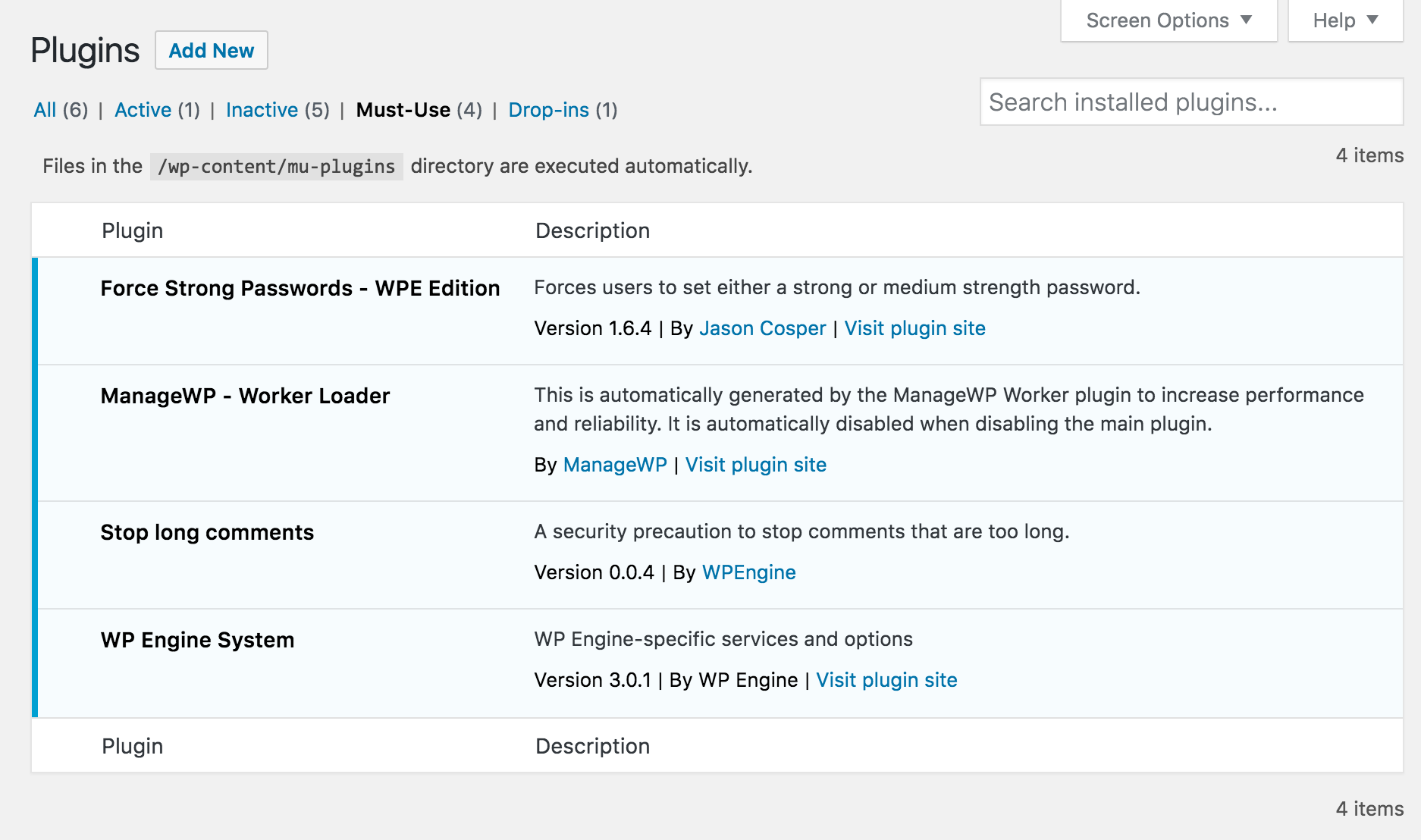 Deploying code with bash script
All of these actions can be automated with a bash script. The following will push a mu-plugin to a web server, run the code, then delete the file. I'll call it deploy.sh.
#!/bin/sh

#
#   Deploys one time use mu-plugins on remote server via FTP
#   Script/deploy.sh
#

### FTP Information
domain=example.com
username=example
password='randompassword123'
ipAddress='example.wpengine.com'
protocol='sftp'
port='2222'

### Configs
mupluginpath=/home/Tmp
muplugin=anchor_load_configs.php
lftpprep='set sftp:auto-confirm yes;set net:max-retries 2;set ftp:ssl-allow no'

### Uploads plugin to mu-plugins
sudo lftp -e "$lftpprep;put -O /wp-content/mu-plugins/ $mupluginpath/$muplugin; exit" -u $username,$password -p $port $protocol://$ipAddress

### Trigger website to run mu-plugins
wget --no-cache --spider $ipAddress/wp-login.php

### Removes plugin
sudo lftp -e "$lftpprep;rm /wp-content/mu-plugins/$muplugin; exit" -u $username,$password -p $port $protocol://$ipAddress

If you can code it in PHP you can do it over FTP
By wrapping custom code into a mu-plugin you can accomplish anything possible in PHP with a FTP deployment script. The following is a static example of a mu-plugin which will do the following.
Conditionally adds a new admin account if not already created
Send an email with link to set password
Conditionally remove default WP Engine admin account if new admin account created and account corrosponding to the install name is found
Conditionally remove site title if WP Engine's defaults are detected
Conditionally remove site description if WP Engine's defaults are detected
Sets timezone to New York
This one is called anchor_load_configs.php .
<?php

### Patch fix email notifications in WordPress 4.6
add_filter( 'wp_mail_from', function( $email ) {
    $site = get_site_url();
    $parse = parse_url($site);
    $email = "wordpress@". $parse['host'];
    return $email;
});

function add_admin_acct(){

    ### Required in order to use wp_delete_user function
    require_once(ABSPATH.'wp-admin/includes/user.php' );

    global $wpdb;
    $tablename = $wpdb->prefix . "users";

    ### Check for default WP Engine site name and description
    if (get_option( "blogname" ) == "Austin Ginder Blog") {
        ## Update default site title
        update_option( "blogname", "installname.wpengine.com" );
    }

    if (get_option( "blogdescription" ) == "Your SUPER-powered WP Engine Blog") {
        ## Update default site description
        update_option( "blogdescription", "" );
    }

    if (get_option( "timezone_string" ) == "") {
        ## Update default time zone
        update_option( "timezone_string", "America/New_York" );
    }

    ### Generating primary admin account

    if ( !username_exists( "anchorhost" ) && !email_exists( "support@anchor.host" ) ) {

        $userdata = array(
            'user_login'    =>  'anchorhost',
            'user_email'    =>  'support@anchor.host',
            'display_name'  =>  'anchorhost',
            'first_name'    =>  'Anchor', 
            'last_name'     =>  'Hosting', 
            'user_nicename' =>  'anchorhost',
            'nickname'      =>  'anchorhost',
            'role'          =>  'administrator'
        );
        $user_id = wp_insert_user( $userdata );

    }

    ### Sending email for primary admin account

    if ($user_id) {
        wp_new_user_notification( $user_id, null, 'user' );

        ### Check for default WP Engine account
        $user = get_user_by( 'login', 'installname' );

        ### If found remove and reassign pages/post to new admin
        if($user) {
            wp_delete_user( $user->ID, $user_id );
        }
    }

    $user_id = null;

}
add_action('init','add_admin_acct');

?>