Less than a year ago I switched from a MacBook Pro to Microsoft's Surface Laptop 3. The Windows Subsystem Linux (WSL) was a big enabler to seamlessly switch platforms. Windows with WSL works pretty good. It's not perfect and requires some modifications to get everything with my WordPress development workflow working. Even so, I've been fairly happy with the switch.
Still I could never get away from the question, "Why not just switch to Linux?".
A few months back I installed PopOS, a Ubuntu based Linux distro by System76, on my family laptop. That was the beginning of the end. With this experiment I was able to confirm that there were no major roadblocks preventing me from switching to Linux. However some apps would require alternatives.
At the same time my Surface Laptop was affected by a hardware defect where the screen would spontaneously crack. Microsoft thankfully sent me a replacement however that new replacement only lasted two weeks before another crack. I figured that now was a perfect time to replace my Surface Laptop and go all in on Linux. Meet the Lemur Pro, a fantastic little Laptop from System76. My new daily driver.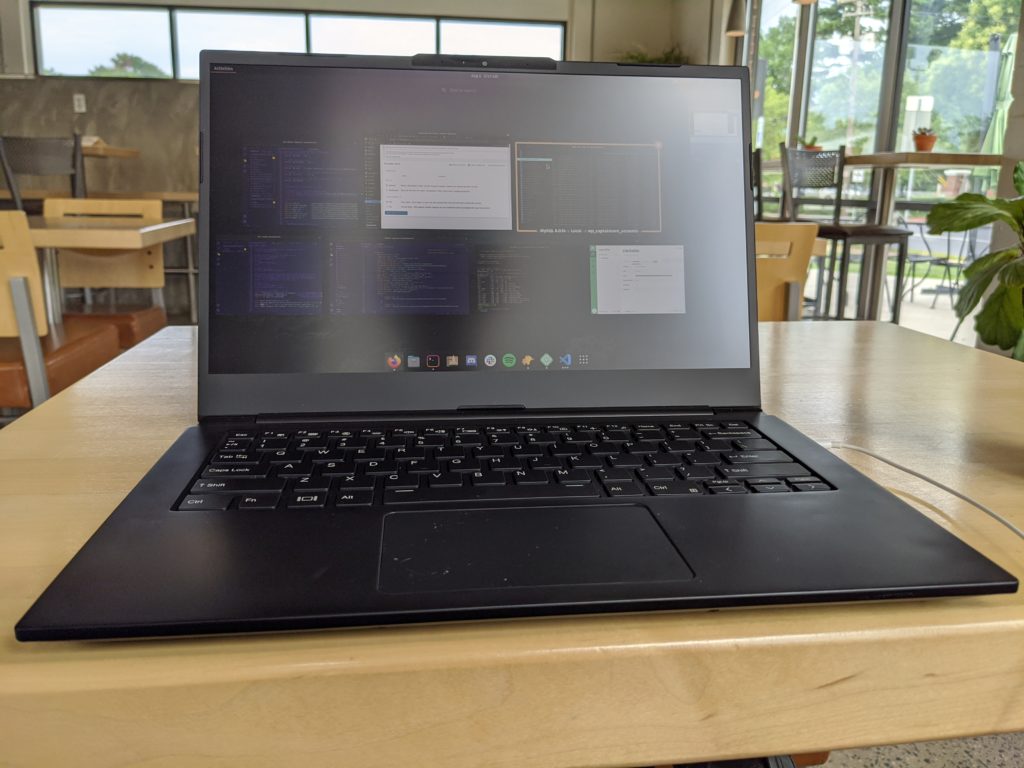 Surface Laptop 3 vs Lemur Pro in specs
These two laptops are fairly close in price. I put them in the portability category of a MacBook Air. However that's were the comparison ends. The Lemur Pro is lighter and faster, has a fingerprint resistant screen, a significantly longer battery, and is basically the same size as the Surface Laptop 3. There are some pros and cons for each laptop but at the end of the day the Lemur Pro is a more functional choice for my daily needs.
My Surface Laptop 3
My Lemur Pro
Memory
16GB
40GB
Storage
256GB SSD
Seq Read: 649 MB/s
Seq Write: 247 MB/s
500GB GB NVMe
Seq Read: 3,500 MB/s
Seq Write: 3,200 MB/s
Display
13.5in
glossy touchscreen
3:2 aspect ratio
14in
matte finish, no touchscreen
16:9 aspect ratio
Battery
2 maybe 3 hours of usage
Easily 8 hours+
Weight
2.84 lbs
2.2 lbs
Cost
$1,599
$1,552
The default Linux trackpad settings could be improved.
Everytime I try Linux on a laptop I'm disappointed with the default trackpad settings. Luckily this is significantly improved by disabling "Tap to Click" and enabling "Natural Scrolling". That enough for me to consider it usable.
A friend of mine also mentioned that there are ways of getting MacOS like multitouch gestures enabled on Linux. I haven't done this yet on my Lemur Pro however I can totally see this improving the overall trackpad experience. I wish PopOS would come bundled with multitouch gestures.
Apps and app alternatives.
PopOS comes with Pop Shop which is an App store for Linux applications. This makes installing popular apps, like Discord, Firefox, Slack, Spotify, VLC, and VS Code, a one click process. It doesn't include everything but it's a great starting point. Many other applications, like Local, Hyper.is and TablePlus, have official Linux apps provided directly from the author's website. Ironically the day I started using my Lemur Pro, 1Password announced their own Linux native app, which I'm super happy to see in development.
Of course not everything works on Linux. The biggest incompatibilities I've run into so far is with Backblaze and TunnelBear. Neither have native Linux apps which lead me to hunt for alternatives. NordVPN is good alternative to TunnelBear and has an easy to use nordvpn CLI. There isn't a great alternative to Backblaze for Linux. The easy set it and forget it backup solution for Linux seems to be missing. You can sorta do the same thing with a B2 Bucket and MSP Backup. However I'm personally just going to write a backup script with rclone and schedule it to run nightly until something with a little more polish comes along.
I couldn't find an all-in-one screen recorder and editor like ScreenFlow or ActivePresenter for Linux. However I think OBS Studio for recording combined with Kdenlive for edits should work fine for the screen recording that I do. If you're planning to switch to Linux I recommend spending time playing around with your apps. This is where the rubber meets the road. If you can't get your primary apps working in Linux, then you should probably just stick with Windows or MacOS.
I'm not sold on the idea of tiling windows and that's OK.
PopOS comes with an optional feature called tile windows. The idea is that instead of managing windows with the mouse, you use the keyboard. This has potential productivity gains however just isn't something I'm sold on. With the Dash to Dock extension, you can mimic the dock from MacOS fairly easily and it feels great to use.
Supporting companies that support open source.
Microsoft has come full circle in terms of supporting open source. Big industry is finally seeing the light of day that there is more to be gained by making things open then closed. Microsoft is not a champion of open software but they're making some great progress and I'm excited to see their support.
System76 is the real deal and their business model is simple. Sell awesome Linux hardware and support open software. I'm happy to give them my money. I wish there were more companies like them in this space. Buying a Linux computer might not be as polished as buying an Apple however System76 is doing a fantastic job at closing the gap. Keep up the great work!